Born in 1989, Clementina Lukonde Mulenga, aka
Cleo Ice Queen
, is one of the most influential female rappers in the Zambian music industry who has been making hits and waves since she started her career in 2011.
Besides being a talented musician, Cleo Ice Queen is also a very attractive young woman who makes heads turn when she enters a room and the subject of who she is dating is always one of interest to many.
Not so long ago, the
Sensation
hitmaker briefly exited the single-life arena after getting married to a fellow top Zambian musician- Kalale Masengu, popularly known as
Kaladoshas.
We take a look back at Cleo Ice Queen's wedding to Kaladoshas which was done so privately that most people didn't know that it actually happened.
Details about Cleo Ice Queen's wedding
After dating since 2015, in 2017, when Cleo was expecting her child with Kaladoshas, her soon-to-be baby daddy proposed to her and the two were set wed. Unfortunately, things didn't work out, and tabloids reported that Cleo Ice Queen's wedding had been called off. Cleo Ice Queen however denied the break up.
The pair seemingly rekindled their love and in 2019 Cleo Ice Queen and Kaladoshas exchanged their wedding vows sometime in a very low-key event.
The exact date and location where Cleo Ice Queen's wedding took place are currently not available although going by the pictures that found their way online, the private wedding ceremony was held at a church.
According to sources, Cleo Ice Queen and Kaladoshas dressed in traditional wedding outfits for their wedding that was attended by their close relatives only.
In an interview with PinkTV in 2020, Cleo Ice Queen spoke about her music, her marriage and her wedding. The rapper revealed that she and her husband chose to be private about their relationship because of the brutality in social media streets. Check out the whole interview below.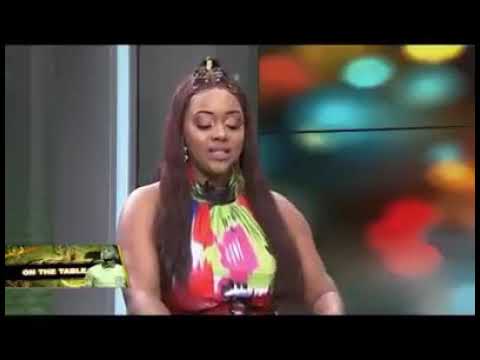 Cleo Ice Queen's husband

The man who stole and kept Cleo Ice Queen's heart is Kalale Masengu, aka Kaladoshas. Like Cleo Ice Queen, Kaladoshas has earned his spot among the top music makers in the country.
Over the years, Kaladoshas who is known for his beautiful voice and meaningful lyrics, has produced great hits including Tenga and Signature. He also worked with Cleo Ice Queen on several songs including Umbrella and Oxygen.
After taking a break from the music industry for sometime, loyal fans of Kaladoshas will be pleased to learn that Kaladoshas is back like he never left.
Ahead of his much anticipated album that he hopes to release before the end of the year, Kaladoshas has already released three singles that have been well received including his latest single Reverse.
Cleo Ice Queen's children
Besides being an award-winning musician and a wife, Cleo Ice Queen is also a super mum. She is the mother of two beautiful girls.
The father of her older daughter is reportedly a Congolese tycoon while her youngest daughter's father is Kaladoshas.
Just like she likes to keep her marriage private, Cleo Ice Queen has also kept her children away from the limelight and she rarely ever posts them on social media.