Chaka Nyathando, aka Pompi and
Esther Chungu
, are among our finest
gospel musicians
and the two, who are married, also make one of the best celebrity couples in Zambia's showbiz.
The lovebirds who have been together for years now are known for their vocal and undying love for each other that they are not shy of letting the world know.
Recently, the Nyathandos, celebrated their first wedding anniversary and their romantic posts took us back in time to when they exchanged vows.
In the spirit of revisiting the past, let's take a look back at Pompi and Esther Chungu's wedding, proposal story, and photos of their big day that will trigger some wedding fevers.
Pompi and Esther Chungu's wedding proposal story
On 27th November 2020, which fell on a Friday and also Pompi's birthday, Pompi melted our hearts when he pulled off one of the
most romantic proposals
ever.
On the day that will probably never be forgotten by the couple, Pompi organized the most romantic set-up using dozens of red and pink roses on a wooden cabinet to spell out the words "Marry Me." The room was filled with candles and covered in rose petals and we honestly don't see a scenario where Esther would have said no to this, we almost said yes and we not even in the room.
Taking to Instagram the next day to celebrate his betrothal, Pompi shared a couple of photos of the proposal. In one of the photos, he was on one knee and in the next he was lovingly embracing his new fiancee.
While Pompi was dressed in a sharp black suit, Esther Chungu was in a beautiful red floor-length gown.


Pompi also shared a couple of more photos where both he and Esther Chungu were all smiles and we got to see Esther's giant engagement rock. These photos were accompanied by the caption: "I believe that I have found a good thing."
Pompi and Esther Chungu's wedding
After Pompi's top-class proposal, we expected that their wedding would be a top-class event too and it turns out that we were not wrong at all.
Pompi and Esther Chungu's wedding was held on April 17th, 2021 at the Lusaka Legacy Retreat. The beautiful outdoor event was graced by the couple's close friends and family.
The couple dressed the part for the big occasion. Pompi was dressed in a classy tuxedo and his beautiful bride wore a stunning layered A-line wedding gown. The bridal team complemented the couple's theme and while the groomsmen wore black suits, the bridesmaids wore light peach gowns.
After exchanging vows, the couple had their reception indoors and from the video of their wedding, it was a lively reception with live performances, lots of dancing and of course food. Here is a video of how Pompi and Esther Chungu's wedding went down.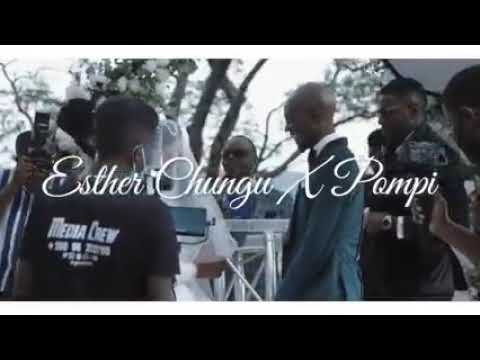 Pompi and Esther Chungu's wedding anniversary
On April 17th 2022 which fell on Resurrection Day, Pompi and Esther Chungu celebrated their f
irst year together
as husband and wife and it appears that the love birds are still in the honeymoon phase of their relationship.
Taking to social media, both Esther Chungu and Pompi shared heartwarming posts dedicated to each other.
We continue to wish the couple a lifetime of wedded bliss and we look forward to their next anniversaries and big milestones.