Faith Musonda, real name Margaret Chisela Musonda, dominated our headlines in 2021 after she was arrested by the ACC for being in possession of a house that was allegedly gotten from proceeds of crime and illegal activities and also being found in possession of millions that she could not account for.
Before the infamous arrest, Faith Musonda who currently works as the head of corporate communications for Export Trading Group was also a well-known journalist and television presenter who made her name known during her tenure at the Zambia National Broadcasting Corporation (ZNBC TV 1) where she used to present Faith Gospel Hour.
Following the arrest, it was revealed that Faith Musonda had multiple identities including Faith Chitulangoma, Margaret Chisela Musonda, and her favourite- Faith Musonda all of which were used interchangeably in her transactions. It was also revealed that she was a director and shareholder of at least nine companies.
Here is a look at all the details about Faith Musonda's house that made news for days. We will also let you know about the whereabouts of Faith Musonda.
Where is Faith Musonda's house located?

Faith Musonda's house of trouble was located in the upmarket suburbs of New Kasama in Lusaka's Kingsland City.
It is unclear when exactly this house was purchased, but reports by the ACC indicate that it was bought between August 2020 and 30th June 2021 at a value approximated at K3 million.
Faith Musonda house tour
Following the publicity that Faith Musonda got after her saga which was dubbed "Money Heist Season 6" by some media outlets, her house which was the centre of all the drama got a fair share of publicity. Here is a video of the
house tour
.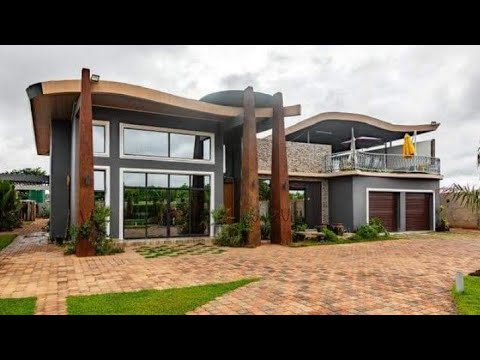 The exterior of Faith Musonda's house

The house sits on a spacious fully tiled compound surrounded by tall trees and flowers that give it a touch of a classy ambience. It's also surrounded by a high perimeter wall and a giant steel gate that guards it against curious unwanted passersby.
The one-storied building with a rich architectural design has its exterior walls painted in cool grey and brown colours. It has giant glass windows and doors and its two-door garage is painted in a rich brown.
The interiors of Faith Musonda's house

Like the exterior, the interiors of Faith Musonda's house is also richly furnished with shades of brown and cream and the floors are covered in brown wood-look tiles.


The rooms are well-lit with the natural light that comes in through the large glass windows and doors and they are complemented with low hanging classy light bulbs.



Her kitchen is fitted with all the modern appliances. It has a drinks cabinet and a lovely kitchen island that proudly sits in the middle.
Faith Musonda's spacious master bedroom is furnished with hanging paintings, lights and furniture that matches her taste for elegant things.
Who currently owns Faith Musonda's house?
After her infamous arrest, Faith Musonda reportedly gave up the ownership of the house to the state in exchange for her freedom.
She also surrendered the money that had been found in the house to the Anti-Corruption Commission.