Edgar Lungu is the immediate former president of Zambia who was in power between January 2015 to August 2021.
After retiring from the most powerful position in the country, Edgar Lungu naturally moved out of the state house and into his retirement home.
Here is a close look at Edgar Lungu's house where he has been living since retirement. Check out the photos, video, and cool details about the house.
Where is Edgar Lungu's house located?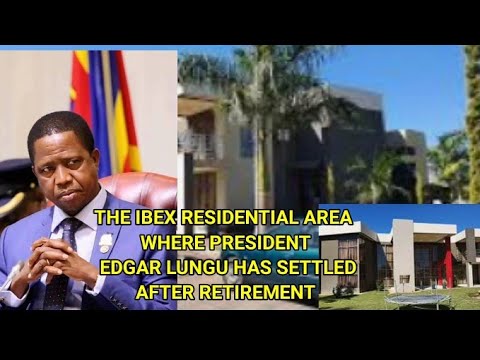 Edgar Lungu's house is located in the beautiful Ibex Hill Suburbs in Lusaka. Ibex Hill is one of the best neighbourhoods in Lusaka.
It is home to some of the most prominent people and embassies including the American embassy.
How much did Edgar Lungu's house cost?

The exact cost of Edgar Lungu's house in Ibex Hill has not been provided but it is reported that it was on sale at a value of around 23 million Kwacha.
The former head of state did not, however, cover the cost of his new residence but it is reportedly being rented to him by the state and it is allegedly owned by footballer Stoppila Sunzu.
Cool features of Edgar Lungu's house and photos
Besides being automatically cool by the mere fact of being in a high-end neighbourhood, the former head of state's home also has some remarkable features that make it fit for a former president.
The giant palatial home sits on a large piece of land and has a long driveway from the main gate to the front door that is flanked by palm trees.
The large compound is fully tiled and surrounded by perfectly manicured green lawns and beautiful flowers.
Did Edgar Lungu build a house in eSwatini?
In 2018, a few sources including the BBC published that
Edgar Lungu
was the president then, and was building a multi-million mansion at Nkonyeni area in eSwatini kingdom (formerly Swaziland.)
According to the reports, the former president had been given land by the King Mswati 3 of eSwatini. And while there was nothing illegal about Edgar Chungu building a house in a foreign land, some critics questioned his intentions of investing lots of money in another country.
The former president later clarified that he had indeed been given land by Mswati 3 but denied that he was building a house on the land.
Edgar Lungu's family
Edgar Lungu who is a staunch christian is a family man. He married the former first lady- Esther Chungu, and together they have six children.
Not much is known about Edgar Lungu's children except for his daughter Tasila Lungu who is a politician and a first member of parliament for Chamawa.
It is unclear how many grandchildren Edgar Lungu and Esther Chungu have and the number of family members who reside with them in their grand retirement home but we wish the former president a lovely retirement.