Mulaza Kaira who's popularly known as Macky II or Macky 2 is a Zambian hip hop artist, singer and producer. Having hailed from a family of musicians it was quite evident that Macky 2 and his siblings would follow the same path.
Macky 2 stepped into the limelight when he appeared as a contestant on
Big Brother Africa season 9
where he took the third position in the competition.
From humble beginnings, Macky 2's work speaks for itself and he's been ranked as one of the richest musicians in Tanzania.
Here's a look at Macky 2's biography.
Macky 2 Age

He was born on October 10, 1984. He is 36 years old. By the look of things, the dirty thirties have never looked this good on Macky 2.


Macky 2 Early Life
Macky 2 has a brother, Kondwani Kaira and a sister Towela Kaira who are both musicians. Towela, featuring his brother Macky 2 and Chef 187 did a song together titled
'Delay'
which was an instant hit and received so much air play across the nation.
Macky 2 Education
Macky 2 attended his secondary education at Kabundi highschool in Chingola.
Macky got offered a scholarship by the Eden University in 2020 to study a post graduate diploma in Business Leadership and Management.
Macky 2 Marriage
In 2015, Macky 2 got married to the love of his life, Chello Hatiinga. They held a beautiful ceremony and Mampi and controversial artiste Pilato joined the fun as members of the bridal party.
The couple also has a daughter together whom they named Faith. In 2019, he released the music video for the song,
All For You
featuring F Jay which he said was dedicated to his baby girl.
Macky 2 Career
Macky 2 always showed an interest in music from a very young age and it was after he attended the Catholic church in Ndola he confirmed that he wanted to be a musician.
In 2011, Macky 2 went to Lusaka and here he released his album '
Ndimupondo'.
He's done collaborations with many artists such as T-Sean , JK , K'millian , P Jay , Chef 187, Izreal, and B'flow, to mention a few.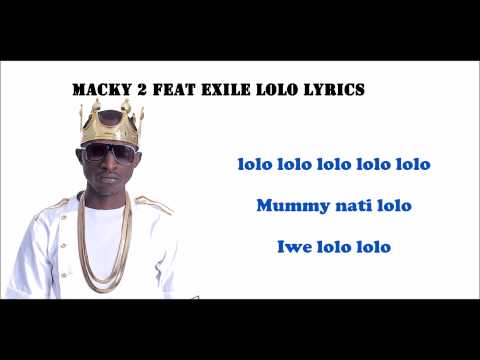 Macky 2 released his album 'Legendary' in 2012 which he said was about empowering the youths.
"The album has a variety of songs on it,from the dance floor filler "Mami" to the surprise collaboration with Jk. "My album is focusing more on empowering youths"
Macky said.
Macky 2 released the following albums,
Too Much Influence
(2012),
Zero to Hero
(2013,
Ndimupondo
(2015) and he then released
'Ghetto President'
in 2018. In 2020 he released another album,
'Mrs Me'.
He also released the hit 'Early Riser' where he featured 'Pompi' and the single became an instant hit.
After his time on Big Brother, he got the opportunity to work with Nigerian artist D'Banj, but he refused to do so as he did not agree with the terms and conditions of the contract presented to him. Unfortunately that collabo ended up not happening.
Macky 2 has also had the opportunity to perform with South African artists;
Cassper Nyovest
and
Zodwa Wabantu
.
Macky 2 Big Brother Africa

He's always described himself as the ladies man who people easily fall in love with. In 2014 he entered Big Brother Africa and he believed he stood a chance to win the grand prize.

However, the viewers seemed to have a different analysis of him as they thought he was too quiet and this wasn't the competition for him. Macky 2 lasted till the final week of the competition, but got voted off and he took the third position.
Macky 2 Awards & Nominations

He's only focused on giving his fans great music at the same time inspire the youth and help upcoming artists as well

Here's a list of the awards he's won over the years.

2011 – Radio Song of the Year at the Born n Bred Awards
2013 – Album of the Year 'Legendary' at the Zambia Music Awards
2015 – Song of the Year 'Mama Rebecca' at the Zambia Music Awards
2016 – Collabo of the Year 'Lolo Lolo' at eh Zambia Music Awards
2017 - Best Mainstream Song at the Kwacha Music Awards
Macky 2 Controversy

Macky 2 raised so many eyebrows in 2019 when he was not nominated for the Ngoma Awards. In an interview with DJ PMC on Pan African Radio, Macky gave detailed reasons as to why he hadn't been nominated.

He felt that in 2019, he hadn't done much work to take his music to the next level, so he did not submit his work. Instead he let others he thought were deserving to be nominated, submit their work for the awards.

See the interview below:


Zambian award winning and controversial photographer Chellah Tukuta seemed to want to pit Macky 2 against Slap D when he took to his socials and said Macky 2 was a way better musician than Slap D. Chella said he felt that Slap Dee's didn not in any way empower the youth like Macky 2's music. He went on to say that Macky 2 also supported upcoming artists and Slap Dee didn't.
However, it seems Chella had more artists actually come out to support his opinion about Macky 2 contributing more to the music industry than Slap D. Artists like Bobby East and Daev shared the same sentiments of how Macky 2 helped them get to where they are.
Was Chellah right for making this comparison?
Macky 2 Brand Endorsements

In 2020, Macky 2 was unveiled as the Eden University brand ambassador. A a way of investing in the arts, Eden University offered Macky2 a scholarship in one of our best programs and that's a post graduate diploma in business leadership and management.




Macky was grateful for the opportunity that had been presented to him by the university and had this to say;

"As musicians I've always said this a number of times, it's not only about entertaining people it's also about informing people, it's also about educating people, it's also about inspiring people. How can you educate when you're not educated. And obviously education is not only about school, it's every single day we strive to better ourselves to learn. They say knowledge is power, so everyday we try and get as much education as possible."


Macky 2 Philanthropy
Macky 2 runs the
Macky 2 Hope Foundation
, which supports orphans and vulnerable children. The foundation also seeks to help vulnerable youths realise their dreams through music.
Doing the little that he can to better the community, in partnership with Water Aid Zambia and along with Chef 187, they made a substantial donation to the Home of Happiness.
Macky 2 Net Worth

Having been hailed as one of the richest musicians in Zambia, Macky 2 also lives the life that many envy. He reportedly has a net worth valued at $1 million.

Main image credit: Instagram