Mutale Mwanza
, aka The Queen of Zambia's media is one of the most successful media personalities in the country whose hard work, passion for what she does and hustle is quite unmatched.
Mwanza is currently enjoying the rewards of her hard work and she lives in a beautiful house and drives some very expensive machines.
Here are all the details of Mutale Mwanza's house including photos and videos that will inspire you and increase your respect for the queen.
Details about Mutale Mwanza's house
In late October 2020, Mutale Mwanza took to social media to announce that the construction of her new house was underway and she even shared photos of the house which was already at the roofing stage.
Accompanying the photos of her house, Mutale Mwanza disclosed to her M-Nation that her new paradise was located in Makeni, Lusaka.
Early in 2021, the talented media personality shared a video of her beautiful, fully completed house but that was not the only house she was showing her fans.
Next to Mutale Mwanza's house is another house that according to the radio personality is "exactly the same" as her house. In the video, Mutale revealed that the second house was up for rent and asked interested tenants to reach out to her.
Check out the house tour video of Mutale Mwanza's house below.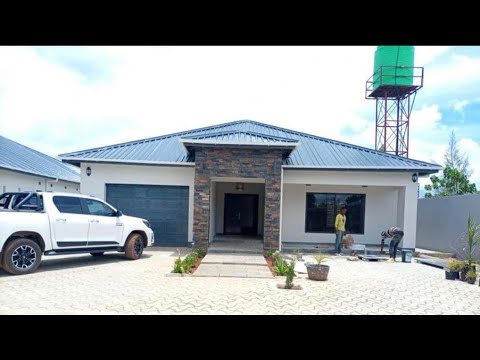 The exterior of Mutale Mwanza's house
Mutale Mwanza's house is a beautiful large modern bungalow that sits on a fairly spacious compound. The compound is fully covered with outdoor tiles and has lovely flowers that give the place a natural aesthetic.
There is enough space in front of the house for Mutale Mwanza to park her sleek cars. Mutale often shares beautiful photos of herself posing in front of her house and it's absolutely beautiful.
The interior of Mutale Mwanza's house

Like the exterior, the interior of Mutale Mwanza is equally breathtaking and the furnishing and interior design was clearly well-thought through.
The crisp-white walls together with the clean tiles and the sophisticated yet a bit vintage furniture combined with a few beautiful paintings give the rooms such a rich and elegant feel that is synonymous with Mutale Mwanze.
The house has several spacious rooms that include a fully equipped modern kitchen with enough cabinets.
Mutale Mwanza cars
Along with living in a beautiful house, Mutale Mwanza also drives some of the
sleekest cars
around and has over the years continued to grow her fleet of luxury cars.
Some of the expensive cars that Mutale owns include a Range Rover Vogue, a Ford Ranger and a Toyota Fortuner.
How does Mutale Mwanza afford her luxurious lifestyle?
After checking out her house and expensive cars, the next question that comes to the minds of many is where Mutale Mwanza gets her money.
Mutale has established herself as one of the most renowned media personalities in the country and over the years, she has been able to work with big media houses in Zambia and South Africa as a radio and television host.
She currently hosts her own show called the
Mutale Mwanza Show
which is broadcast on her social media pages and she is also a co-host on a talk show called
Tuvwange Lifestyle
on Zambezi Magic.
In addition to her work in the media, Mutale Mwanza also makes money from her endorsement deals and from the adverts she publishes on her social media pages which reach millions of followers.